Reflections, our art book, It will be released the 29th of this month by Yaoi Press.For the most impatient ones, we remind you it's ready for preorder in Amazon or here.
In this art book you'll find illustrations featuring our characters from Saihôshi, Stallion, Eien, Special Treatment and some new ones. None of them have been published before, they have been specially created for this art book. There are hot scenes, soft scenes, or simply bishonen pin-ups.
The book is around $12. It has 56 B&W illustrations and a tutorial explaining how was the cover done. The size is 11 x 8.5 inches.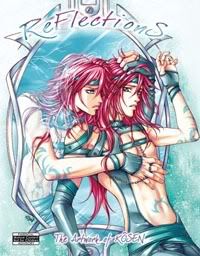 EL 29 de este mes saldrá a la venta Reflections, nuestro libro de ilustraciones para Yaoi Press. Para los más impacientes, recordaros que ya se puede reservar en Amazon o aquí.
Ahora, bien, si vives en España tienes la facilidad de comprarlo a través nuestro a mejor precio y con unos gastos de envio también más baratos. Ya pondremos toda la información sobre cómo hacerlo más adelante.
En este artbook podréis encontrar ilustraciones y bocetos tanto de los personajes de Saihôshi como de Stallion, Eien, Special Treatment y algunas libres. Todas inéditas, especialmente hechas para este artbook, y su grado de yaoi es variado. Encontraréis tanto escenas picantonas (ahí pillados con las manos en la masa), como escenas suaves (mimitos, besitos, abracitos, etc…) o simples pin-ups de bishonen.
Para más info el libro cuesta unos 12$, tiene 56 ilustraciones en b&N y un tutorial de cómo se hizo la portada paso a paso. Su tamaño es de unos 23 cm x 29 cm (aproximado al A4).